What to Expect at Kesgrave Chiropractic Clinic
If you're visiting with us for the first time, we'd like you to know exactly what to expect. Your comfort is our first priority!
Your First Visit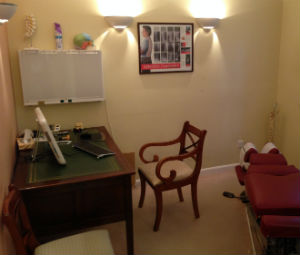 Upon arrival at our office, we'll ask you to fill out a brief health questionnaire to help us understand some of your health concerns.You can download this now if you wish to save time prior to your visit. Ipswich Chiropractor, Dr Ray Martin (Doctor of Chiropractic) will then carry out the following:
An in-depth consultation
A physical examination
X-rays (if clinically indicated)
Most patients are usually gowned during the first visit procedure, which usually takes between 30 and 40 minutes.
Your Second Visit
During this visit, Dr Martin (Doctor of Chiropractic) will provide you with a report of findings. This report is an explanation of the results of your exam testing. He will also outline a customised care plan to address your health concerns.
You will additionally be invited to attend one of our free health care talks at a convenient time during the week.
Complimentary Health Care Talks
We provide a free health care talk for all of our new patients, usually held twice weekly: one at lunchtime, one in the evening. These talks are about 30 minutes in length and are designed to enhance your progress in spinal correction.
These popular talks cover such topics as:
The role of subluxation in pain and dysfunction
How to stay subluxation-free and optimise your health
The true underlying causes of nervous system dysfunction
The efficacy of the medical model and why it often fails
Why drugs don't treat the root cause of health problems
Surprising conditions that chiropractic may be able to help
Why you don't have to come in with pain in order to benefit from chiropractic
What IS wellness?
Once I start chiropractic care, do I have to keep going for the rest of my life?
Our patients love our warm and welcoming environment. Call today at 01473 624345 for an appointment!