Meet Dr Ray Martin (Doctor of Chiropractic)
From Karate Instructor to Chiropractic Champion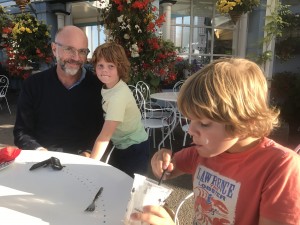 I always loved martial arts and was a karate instructor for almost a decade. I eventually injured my shoulder and started to develop quite a disability. I consulted with a chiropractor after conventional medicine did nothing for my bad shoulder … and the rest is history!" After his successful recovery from injury, Dr Martin (Dr. Chiropractor) had a successful career as an insurance broker. After his recovery from injury, he felt drawn to chiropractic as a career, and at the age of 26 he was accepted into the largest chiropractic college in Europe. He graduated from Anglo European College of Chiropractic in 1995 with a Bsc in Chiropractic. He met his wife, Amanda, at chiropractic college and in 1998 they moved to Suffolk where they opened Kesgrave Chiropractic Clinic.
Dr Martin is a chiropractic doctor. He is not a medical doctor and does not hold a general medical qualification.
The Appeal of a Natural Approach to Healthcare
"The thing that appeals to me about chiropractic is that it's a drug-less, surgery-free approach to the optimisation of health," states Dr Martin (Chiropractor). "I also love that it's personalized, it's physical and it's hands-on. It's the type of targeted care that makes the nervous system thrive!"
A Family Man
Ray is happily married to Amanda, who is also a chiropractor. They have two young sons, and love to spend time together as a family, enjoying outdoor activities such as swimming and walking. The doctor is also keen on travel and dining out whenever he can find the time! One of his favourite charities is Future Hope, based out of Calcutta, which provides homes and education for children living on the street, for which he's lent his full support.. Ray loves his work and would like you to be his next success story! Call 01473 624345 today for a convenient appointment.